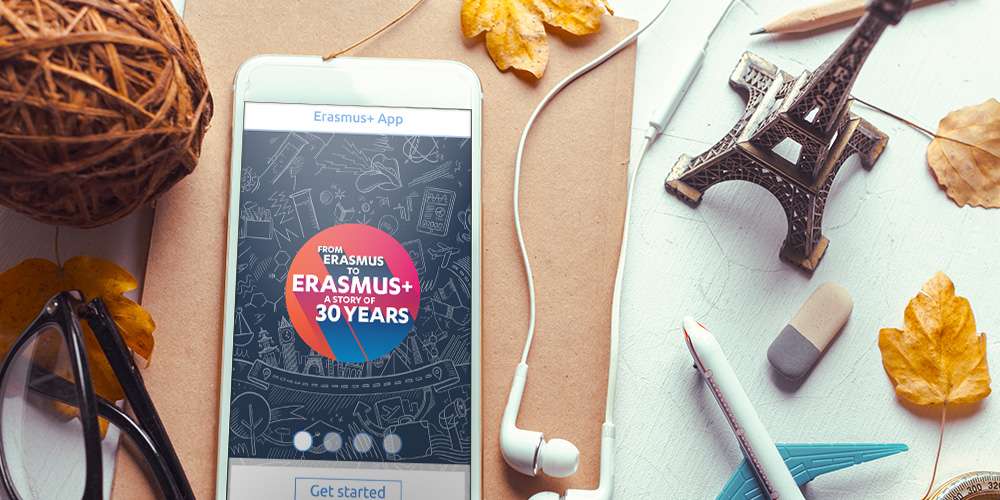 Friday, 28 February, 2020 - 11:22
The Erasmus+ App is a mobile application for Erasmus+ participants which will put the whole mobility experience at the fingertips of young people. The objective of the project is to render mobility easy, accessible and at arm's reach for every user while promoting innovation and digitalisation in the long run. Users of the app will be provided information on the Erasmus+ Programme opportunities for individuals and offered guidance through the mobility process - from the application phase to the return to their own country.
The Erasmus+ App and associated services are to become an integral part of the Erasmus+ Programme with the start of the new Multiannual Financial Framework 2021-2027 by becoming its single point of access for learners at large and students in particular. This goal defines the ambitious scope of the endeavour which is to make sure every year the Erasmus+ Programme individual participants are informed and able to use the Erasmus+ App to support their mobility experiences. In 2017 close to 600,000 learners benefited from a mobility period abroad, among which about 312,000 learners were students (for studies and traineeships).
Following the launch of the Erasmus+ mobile App in 2017, key digitisation initiatives reached a level of maturity that called for an enhancement of the App to become a single point of entry for higher education students and other learners to assist them when preparing, undergoing and returning from their mobility experience. The App will revolve around the student journey starting from the very moment of interest in a mobility experience and accompanying the student throughout the mobility experience.
ESN will develop the Erasmus+ App together with a strong consortium which includes Eötvös Loránd University, European University Foundation, Ubiquity and Eworx. Helping the consortium achieve the ambitious goals are the partner stakeholder organisations including the University of Porto, Aristotle University of Thessaloniki, University of Warsaw, Ghent University, University of Paris 1 Panthéon-Sorbonne, Géant, CNOUS, HousingAnywhere, ESN France, Europass 2 initiative stakeholders, European Students' Union and the Fraunhofer Institute.
The new features of the app will include:
Structured information on the existing Erasmus+ Programmes

Services (buddy system, uni information, accommodation)

eCard

Integration with the Online Learning Agreement

Top tips for living away from home (general, country-specific and city-specific)

A feed for news and local events and activities

Integration with the Online Linguistic Support Platform

Many others