HotelsCombined, the world's leading hotel comparison website, helps ESN Members to find the best rates for the accommodation by comparing all the top travel sites in one simple search.
To make your Euro-adventure everything you want it to be, HotelsCombined is also offering a 10% discount to ESNcard holders!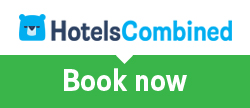 How can I get my ESN Member discount?
Getting your 10% rebate is easy: after you've made a booking, just send us the following information:
Full name, email and PayPal address.
Accommodation reservation receipt with booking number.
Proof of membership: ESNcard.
by e-mail to educationsupport@hotelscombined.com
*Rebates are made via PayPal only. The name on the reservation receipt must match the name of the chosen proof of membership. The rebate will be received within a week after the check-out-date. All rebates must be claimed within 3 months of the hotel stay.
How does HotelsCombined work?
Our technology cuts through availability and prices from all the leading online travel sites from around the world. In one quick and easy search, we show you only the information you want to know and need to know. You'll find just what you're after and can be sure you got the most out of your booking.
We also guarantee to find you the best price on a hostel, hotel or apartment. It's our promise to you.